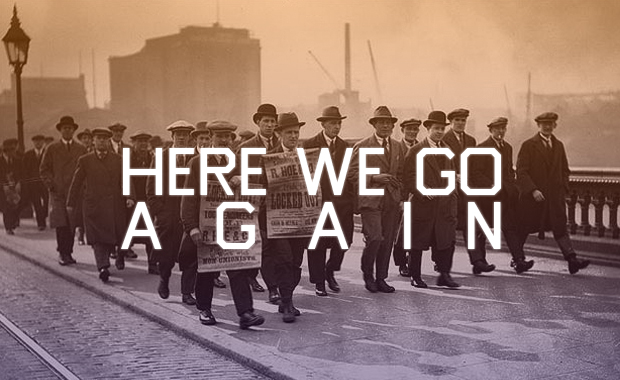 Welcome to the first edition of HERE WE GO AGAIN brought to you by TIME/IMAGE. In this series, we intend to pick out some of the bigger or more interesting current news events, and provide a history of similar events that have happened in past, using only freely-available online resources.
It's well known that by understanding the events of the past that we can better understand our present. And what better way to engage with our past than through the vast array of information that is freely available to us through online sources and media? But navigating what is available can be time-consuming and daunting.
Our aim is not to provide comment or opinion on what is currently occurring, nor on what has happened in the past. Instead we want to provide facts and histories in the hope that it may help to contextualise what is happening today. We also want to provide you with a portal to the numerous resources that perhaps you didn't know were available or would have never thought to look at – or have never had the time to. This could be anything from the National Archives, to lesser know sites such as the Tower Hamlets History Online wesbite, or even extracts from (reference-checked) Wikipedia articles.
The major news articles today are about the industrial strike by various unions. On strike over public sector pension reforms and moves by ministers to bring forward the increase of the retirement age to 67. For this first edition of HERE WE GO AGAIN, we want to take you back over some of causes of the biggest and most famous industrial strikes to hit the UK over the last 120 years.
1888 – The Matchgirls Strike 
[fusion_builder_container hundred_percent="yes" overflow="visible"][fusion_builder_row][fusion_builder_column type="1_1″ background_position="left top" background_color="" border_size="" border_color="" border_style="solid" spacing="yes" background_image="" background_repeat="no-repeat" padding="" margin_top="0px" margin_bottom="0px" class="" id="" animation_type="" animation_speed="0.3″ animation_direction="left" hide_on_mobile="no" center_content="no" min_height="none"]
In 1888, the workers of the Bryant & May match factory went on strike, as a result of an article written by Annie Besant, in which she described the workers' conditions:
"The splendid salary of 4s. is subject to deductions in the shape of fines; if the feet are dirty, or the ground under the bench is left untidy, a fine of 3d. is inflicted; for putting "burnts" – matches that have caught fire during the work – on the bench 1s. has been forfeited, and one unhappy girl was once fined 2s. 6d for some unknown crime. If a girl leaves four or five matches on her bench when she goes for a fresh "frame" she is fined 3d., and in some departments a fine of 3d. is inflicted for talking. If a girl is late she is shut out for "half the day", that is for the morning six hours, and 5d. is deducted out of her day's 8d. One girl was fined 1s. for letting the web twist round a machine in the endeavor to save her fingers from being cut, and was sharply told to take care of the machine, "never mind your fingers". Another, who carried out the instructions and lost a finger thereby, was left unsupported while she was helpless. The wage covers the duty of submitting to an occasional blow from a foreman; one, who appears to be a gentleman of variable temper, "clouts" them "when he is mad".
[/fusion_builder_column][fusion_builder_column type="1_1″ background_position="left top" background_color="" border_size="" border_color="" border_style="solid" spacing="yes" background_image="" background_repeat="no-repeat" padding="" margin_top="0px" margin_bottom="0px" class="" id="" animation_type="" animation_speed="0.3″ animation_direction="left" hide_on_mobile="no" center_content="no" min_height="none"][Annie Besant, White Slavery in London. from "The Link: A journal for the Servants of Man", Issue no.21 (Saturday 23 June, 1888)]
After sacking numerous of the workers, the women then went on strike, demanding better pay and better working conditions. It was the first unorganised strike of its and even coined the term "striking action", for its affiliation with matches. The action was a success for the women.
Full article: Annie Besant's "White Slavery" http://www.mernick.org.uk/thhol/thelink.html

Taken from THHOL ( Tower Hamlets' Local History Library and Archives.) www.mernick.org.uk/thhol.main.html

HistoryPin photo of the Bryant & May factory: http://www.historypin.com/photos/#/geo:51.530625,-0.021911/zoom:18/date_from:1840-01-01/date_to:2001-12-31/dialog:4328003/tab:stories_tab_content/
             
1889 – The London Dock Strike
"In 1889 the London docks were convulsed by a strike which captured the imagination not only of Britain but also of many parts of the Empire. Thousands of dock labourers had walked out, demanding the famous "dockers' tanner", and changes in the way men were hired. While most dock labour had its grievances, the "casuals" were at the core of the strike. These labourers had to compete against their fellows to be employed for a few hours or a day at a time, and were at the mercy of the contractors and foremen, who hired and fired at will.
The strike began on the 12th August and quickly gained massive support. The main organiser was Ben Tillett, and the strike committee included such well known figures as John Burns, Tom Mann and Will Thorne. An avoidance of violent clashes helped the strikers gain the support of much of the public and the press. However, the cost of providing meals and clothing for thousands of men and their families looked as though it might lead to the collapse of the strike. At this crucial point massive financial help began to arrive from the Australian Labour movement. The final accounts of the strike relief fund reveal that of £48,000 raised £30,000 came from Australia – a contribution without which the strike might well have been lost.
It was now the turn of the employers, increasingly under pressure from the shipowners and divided amongst themselves, to feel alarmed. Attempts at conciliation led by Cardinal Manning were successful in bringing about an end to the strike on the 14th September. The dockers had their tanner from the 4th November, and all their other terms were met. The dockers' triumph was one of the major victories of the 'New Unionism', which saw trade unionism spreading from the skilled groups of 'labour aristocrats' into the wider semi-skilled and unskilled working population. "
– Information Leaflet No 19; THE GREAT DOCK STRIKE, 1889;  © London Metropolitan Archives
Further reading:
http://www.portcities.org.uk/london/server/show/ConNarrative.77/chapterId/1848/The-Great-Dock-Strike-of-1889.html
1926 – General Strike
The General strike of 1926 lasted for nine days from the 4th May. Called by the Trade Union Congress, it was intended to try and force the government to prevent wage reduction and longer working hours for coal miners. Over one and a half million people joined the strike. These were largely coal miners, dockworkers, iron workers, printers, railwaymen, steelworkers, and other transport workers.
A number of factors had contributed to the falling value of coal in Britain, including depletion of British coal seams after World War One and reduced productivity, a poor economic climate after the reintroduction of the Gold Standard, and the 'free' coal that Germany was now exporting to France and Italy as a part of its reparations for the war.
In June, 1925, mine owners countrywide announced that they would be reducing the wages of miners. The Miner's Federation of Great Britain objected to this, and the Trade Union Congress supported them in this. By 31st July 1925, the government had responded to these events by deciding to subsidise the miners' wages and maintain them at their current rate. This was, however, only to last for nine months. Upon its cessation, the mine owners announced that they would be reducing the miners' wages by up to 25%, and increasing the length of their working day to eight hours. The response was profound, and support for a strike grew rapidly if negotiations failed, provoked by leaflets from the Trade Union Congress such as: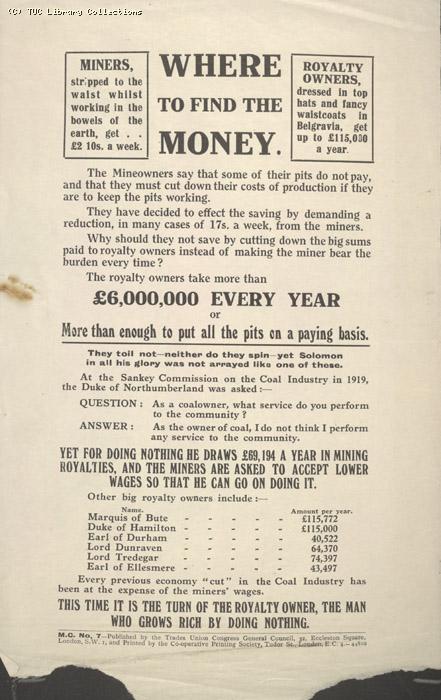 The nine month subsidiary, however, had given the government time to prepare for the inevitable labour, and measures were in place to keep the country running, such as food convoys to counteract the dockers' pickets. Plans were being laid to enrol volunteer replacements for striking workers as early as October 1925, as can be seen in this contemporary Cabinet document discussing the types of labourer required:
Download for free from: http://www.nationalarchives.gov.uk/documentsonline/details-result.asp?queryType=1&resultcount=1&Edoc_Id=8043069.
The strike was heavily condemned by the government, who had little sympathy for the striking workers, and an effort was made to portray the affair as anarchy and revolution, rather than simple industrial action, as can be detect in this printed leaflet signed by the then prime minister, Stanley Baldwin:
http://www.unionhistory.info/web/objects/nofdigi/tuc/imagedisplay.php?irn=1000245.
Some letters from one Kinglsey Game confirm this. An excerpt from his letter on the 8th May, viewable on the National Archives website, reads, "The Govt goes on harping on what it calls the revolutionary aspect of the strike & ignoring its industrial side. Anything less like a revolution than the conduct of the majority of strikers it would be difficult to imagine".
The nine days passed relatively peacefully, though a train was derailed near Newcastle (http://www.lner.info/forums/download/file.php?id=1168&mode=view), and buses in London were overturned. In a rare video of the strike, a crowd of strikers can be seen allegedly clashing with police, as well as the state of some railways termini. [youtube http://www.youtube.com/watch?v=3ImDPe631rs]
Though many supported the miners' cause, the general strike was ended on the 12th May when the Trade Union Congress accepted the terms of a set of proposals put forth by Sir Herbert Samuel, as reported in the British Worker: http://www.unionhistory.info/web/objects/nofdigi/tuc/imagedisplay.php?irn=5001963, and mocked in Punch http://www.nationalarchives.gov.uk/cabinetpapers/images/cabinetpapers/he6b02-1071923-main.jpg. This settlement did little for the miners and they rejected it, continuing to strike on their own for the next few months until forced back to work by their ensuing destitution. Ultimately, the strike was seen to achieve nothing for the miners, who had to accept the pay cuts and extended work hours regardless, whilst a substantial number lost their jobs completely. As a result of this strike, sympathy strikes and mass picketing became illegal.
   
1972 – Three Day Week
In 1972 the coal miners decided to go on strike again, the first time since 1926. At National Union of Mineworkers Annual Conference in 1971, they decided to ask for a 43% payrise, although the Conservative goverment were only offering 8%. The union went to vote to decide whether to strike or not.
VIDEO: miner's strike voting news
[fusion_youtube http://www.youtube.com/watch?v=4aKzqZlBXwQ/]
As a result of the strikes, this led to drastic measures being taken to conserve industrial electricity supplies, famously forcing the government to introduce a three-day working week.
Timelike of events from National Archive:
http://www.nationalarchives.gov.uk/releases/2005/nyo/politics.htm

BBC on this day:
http://news.bbc.co.uk/onthisday/hi/dates/stories/february/16/newsid_2757000/2757099.stm

Slideshow from Guardian:
http://www.guardian.co.uk/politics/gallery/2009/apr/16/past-conservatives#/?picture=346055038&index=5
    
1978-79 – Winter of Discontent

From 1975, the Labour government had various agreements with the Trade Union Congress (TUC) to restrict pay rises in an attempt to control rising inflation. When these agreements came to their end in July 1978, the government issued a white paper recommending a pay rise limit of 5% for the year from 1st August. The TUC rejected this, but though the government did not make the limit a legal requirement, it did threaten to impose sanctions on government contractors who broke it.
The members of the Ford Motor Company (a major government contractor) were the first to strike early in October through the Transport and General Workers Union. Ford ceded by the end of November, and gave members a 17% pay rise.
The government immediately moved to impose sanctions on Ford and over 200 other companies for breach of pay policy. This decision was met with opposition from a number of groups, including the Conservative party, and a motion in the House of Commons was passed that left the government unable to impose the sanctions or use any other effective method to enforce the 5% limit on private companies.
[fusion_youtube http://www.youtube.com/watch?v=8vCQ0ebTaLk&feature=related/]
Public Workers strike (News at 10)
This established, other strikes began as workers lobbied for higher wage increases during the unusually cold winter. This included lorry drivers, who not only disrupted fuel supplies but also picketed major ports to prevent the import of goods. This issue was resolved with a 20% pay rise by the end of January 1979.
The day with the most strike action was the 22nd January, which was reported as the largest such day since the General Strike of 1926. Amongst other workers to strike at this time were nurses and ambulance drivers, leaving less than 50% of NHS hospitals able to accept emergencies. Refuse collectors too ceased work mid-January, causing huge piles of waste to build up in the streets, and in London Leicester Square became a dumping ground. Notoriously, grave diggers in Liverpool and Manchester went on strike for a fortnight, causing Liverpool City Council to have to hire a warehouse to store the unburied corpses.
[youtube http://www.youtube.com/watch?v=Je65Vw7ndro]
Dustmens Dispute, piles of rubbish in London streets (ITN)
The Winter of Discontent eroded the public faith in the Labour Government. A highly-covered interview with Prime Minister James Callaghan during the lorry driver strikes in January saw him endeavouring to play down the severity of the strike actions and talking about his recent holiday in the Caribbean. This led to the infamous headline from The Sun newspaper – 'Crisis? What Crisis?'
[youtube  http://www.youtube.com/watch?v=dX06xqN6710]
Jim Callaghan Press Conference 1979, 'Crisis, What Crisis?'
Conversely, the Conservative party made good use of the strikes to further their cause, promising to curb the powers of trade unions and to control inflation. In the general election of May 1979, the Conservative party won, and Margaret Thatcher became Prime MInister. She would famously go on to fight the trade unions, and severely damage their power for years to come.
Modern Comparisons:
Guardian
http://www.guardian.co.uk/commentisfree/2011/sep/14/winter-discontent-public-sector-strikes
Express
http://www.express.co.uk/posts/view/270939/Unions-plan-winter-of-discontent
Evening Standard
http://www.thisislondon.co.uk/standard/article-23986881-winter-of-discontent-as-unions-plan-big-strikes.do
Telegraph
http://www.telegraph.co.uk/news/politics/8762426/Winter-of-Discontent-the-reaction.html
Sky
http://news.sky.com/home/politics/article/1606929

Modern comparative piece: http://www.historyextra.com/feature/winter-discontent-what-can-we-learn-history

BBC broadcast of strikes – http://news.bbc.co.uk/onthisday/hi/dates/stories/january/22/newsid_2506000/2506715.stm

Radio 4 Archive Hour Audio Slideshow (2008) – http://news.bbc.co.uk/1/hi/7598647.stm

Mention of info at Nat Archives- Guardian (2008) – http://www.guardian.co.uk/uk/2008/dec/30/archives-callaghan-labour-memo-1978

National Archive Podcast on release of 1978 government files. A good podcast summarising the files, talking about the run-up to the strikes and Callaghan (to 6:45), plus views on the Soviets and friction twixt Callaghan and Thatcher http://www.nationalarchives.gov.uk/podcasts/1978-files-video.htm Written overview in Guardian (2008) http://www.guardian.co.uk/uk/2008/dec/30/archives-callaghan-labour-memo-1978

National Archive free download of 1979 government files (195 pages) http://www.nationalarchives.gov.uk/documentsonline/details-result.asp?queryType=1&resultcount=1&Edoc_Id=8553707 A podcast summarising the year, referring to released files http://www.nationalarchives.gov.uk/documents/1979-files.mp3 Talks about government's concern over strikes and secondary picketing; mentions General strike around 3:00. Relevant up to 4:00. Talks about election at 4:50.
1984 – UK Miners' Strike
Still within living memory for many, the miner's strike of 1984-85 has often publicly been referred to as a civil war – most noticeably in Turner Prize winning artist Jeremy Dellar's famous work 'English Civil War: Part II' (2002) which reconstructed the famous 'Battle of Orgreaves'.
The Miner's strike also saw some of the first instances of video media used to promote the strikes, a great example can be found below:
[fusion_youtube http://www.youtube.com/watch?v=sxtHA2ZxgwY/]
2004 saw a resurgence of interest on the twenty year anniversary of the Miners' strikes with the BBC producing an 'In Depth' special report webpage and Channel 4 making a two-hour long documentary 'Stike: When Britain Went to War' that attempts to cover the entire event, with comments from many familiar faces.
[youtube http://www.youtube.com/watch?v=4ubgig29l4k]
A fascinating piece of the puzzle are these documents made public by the freedom of information act of previously top secret Cabinet Office reports leading up to, through and after the strike.
[/fusion_builder_column][/fusion_builder_row][/fusion_builder_container]