The United Kingdom, as a number of the digitised films observe, is a diverse land – of mountains and beaches, of fields and industry. To emphasise this, the British Council films focus on not just Britain as a whole, but as a heterogeneous country with distinct regions and peoples – highlighted through those films focusing on regional industry and settlement types.
Country Town (1943) is one of the 'regional geography' series, set in the town of Boston, Lincolnshire. Narrated by the friendly local newspaper editor (who may well have actually been the editor of the Lincolnshire Standard at the time), it looks at the work and leisure activities in this thriving market town.
[fusion_builder_container hundred_percent="yes" overflow="visible"][fusion_builder_row][fusion_builder_column type="1_1″ background_position="left top" background_color="" border_size="" border_color="" border_style="solid" spacing="yes" background_image="" background_repeat="no-repeat" padding="" margin_top="0px" margin_bottom="0px" class="" id="" animation_type="" animation_speed="0.3″ animation_direction="left" hide_on_mobile="no" center_content="no" min_height="none"][vimeo http://vimeo.com/18044636]
The Boston Standard, upon hearing about the film, got in touch and ran a rather lovely article (below) on the film, complete with now-and-then photo comparisons.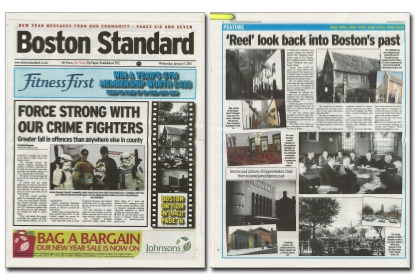 The ensuing response we've had from both former and present Boston residents has been fantastic. Many people have emailed us to express their enjoyment of the film, and Boston Council is looking to hold a screening in the town in the near future – we've even made contact with a gentleman who is seen as a child looking at the animal pens in the film itself.
It's very encouraging to see that communities today are still very much interested in their local history and are keen to help us by providing information that we might not otherwise have encountered. A large part of this project is about engaging with the public and gathering their reactions to the films. As well as hearing people's opinions on the films as documentary history, we want to see how they feel about the changing times and the way the films reflect the past, so it's especially great to speak to people for whom the films hold a special significance.
We are planning to do more work with the regional films in the near future, and I for one hope that everywhere is as enthusiastic about their local history as Boston.
Sarah
[/fusion_builder_column][/fusion_builder_row][/fusion_builder_container]