A couple of weeks back, I found myself stood in an overcast churchyard in Gloucestershire with a big smile on my face because, after exactly three years of searching, I had found Mr Primrose.

Of course, you're likely wondering who Mr Primrose was, for he certainly wasn't famous. He was a normal man doing a normal job, but he has been a pervasive presence in my working life for three years.
Alexander Ferguson Primrose was Secretary for both the Travel and Industrial Development Association (TIDA, now VisitBritain) in the 1930s and the British Council Film Department in the 1940s. I've been working on both collections for some time now, consulting reams of archive documentation that was largely penned by him. It didn't take long for me to wonder who he was and how he came to do what he did, so I began to see what I could find out.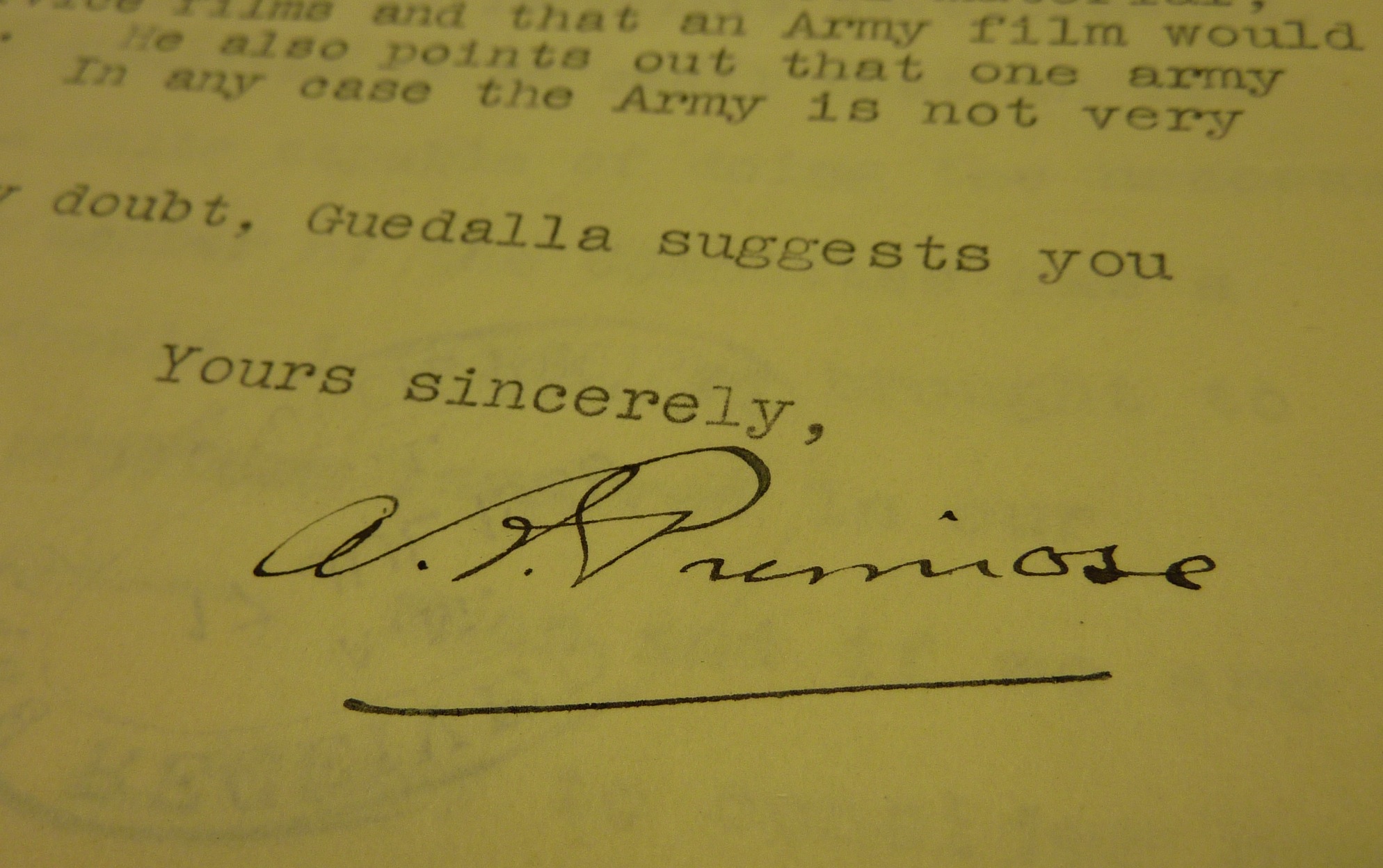 Born in 1889, Primrose was an accountant by the time he joined the City of Edinburgh (Fortress) Royal Engineers (No.2 Electric Light Company) during World War I. He appears to have been appointed to the rank of Captain by 21 December 1914, though a mistake in the London Gazette in September 1917 confuses the matter. During his service, he may have been officer-in-charge of the searchlights on the island of Inchcolm (see below). In 1919 his permanent address was listed as the Primrose Hill area of Dumfries, Scotland. He resigned his commission, retaining the rank of Captain, on 17th December 1920, at the age of 31.
It is uncertain as to what he did for the next decade, but by the formation of the Joint Film Committee in 1936, it seems that Primrose has been working for TIDA for some time. In this role, he was largely in charge of the administrative side of TIDA's film operations; approaching film-makers about new titles, corresponding with production companies, and producing memos on developments.
When TIDA ceased its filmic operations with the outbreak of World War II in September 1939, the British Council carried on their work. This included finishing some titles whose production had been started by TIDA, and continuing distribution under the name of TIDA for a while. As a part of this complicated hand over, Primrose was rapidly hired by the British Council, where he became Secretary of the newly-formed Film Department and carried on with similar tasks as before.
When the British Council's film department handed over its production to the Central Office of Information (COI) early in 1946, many members of the British Council Film Department moved to the COI, whilst others resigned. Primrose appears to be among the first to leave, and it is noted that he has already resigned by April 1946, at the age of 57.
The details of his life after this point are vague.
He wrote to Sir William Lawrence Bragg in February 1962, from his home in Chipping Campden, Gloucestershire (a village which happens to feature in the 1941 film Border Weave). In this letter, he mentions his interactions with Bragg's father, Sir William Henry Bragg whilst he was officer-in-chief of the searchlights on the island of Inchcolm, near Edinburgh. Together they apparently did some scientific experiments with said searchlights on the transmission of sound with a light beam. Primrose says that the elder Sir William and his wife were very kind to him at the time, and that he met the elder Sir William again in 1942-43, at a conference on plans for the production of prestige scientific films.
Death records list that he died in 1969 in Gloucestershire, aged 80, and I wondered if he had remained in Chipping Campden for the rest of his life.
I decided to find out. Thus, with a little bit of guesswork and a long drive, I found myself in the churchyard of St James's church, searching a particular corner for a particular gravestone. I couldn't find it at first – the limestone headstones have weathered poorly and some were almost completely illegible. I began to worry that the headstone was so worn that it no longer bore an inscription. I went up and down the rows with a growing sense of disappointment. He wasn't there.
Then I spotted a solitary gravestone off to one side, at a right angle to all the rest, nestled right up against the churchyard wall.

I'd found him, and with him a deep sense of satisfaction. It was strange to stand there, visiting the grave of a man I'd never met, but I was glad I'd made the effort.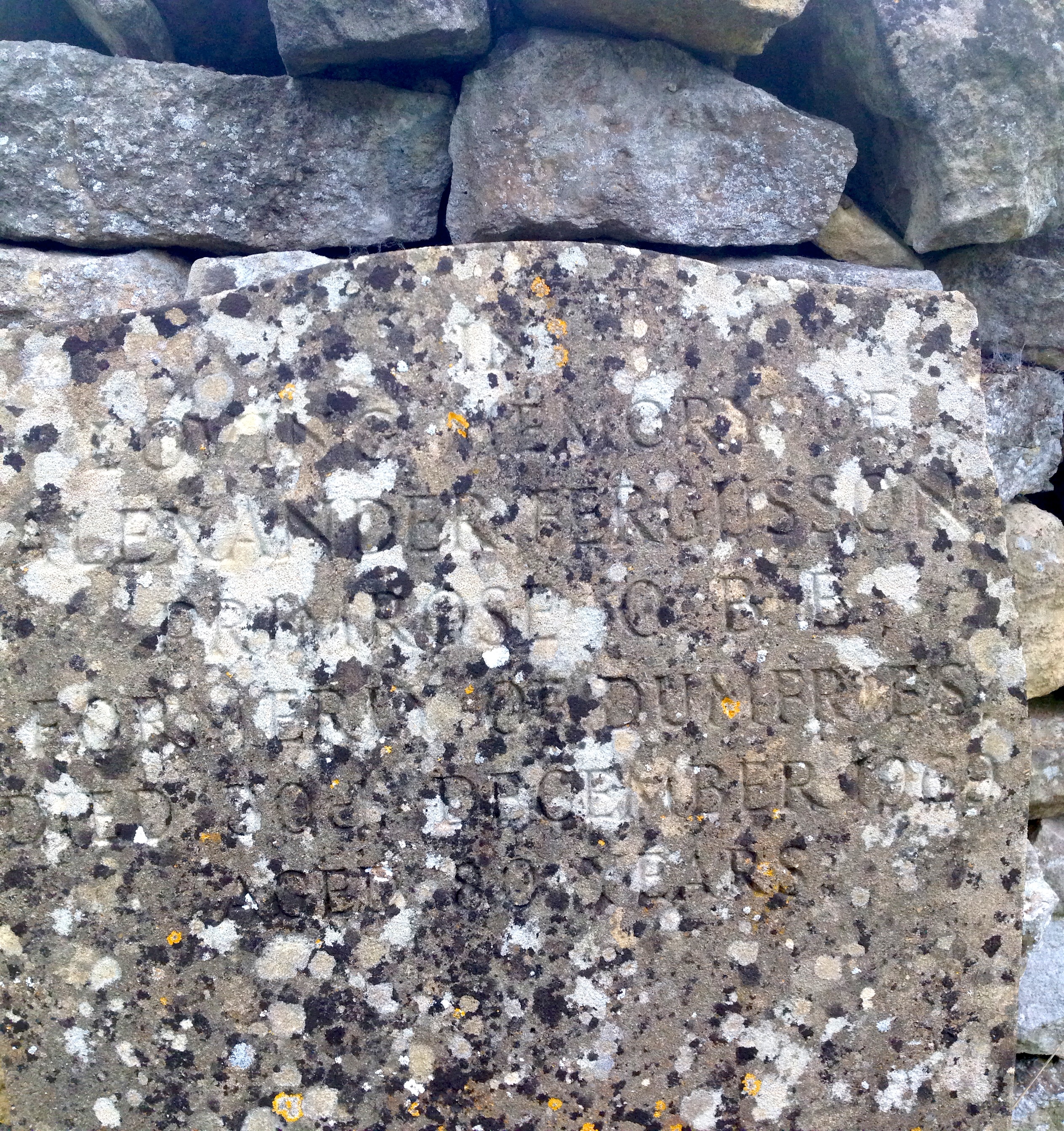 – Sarah