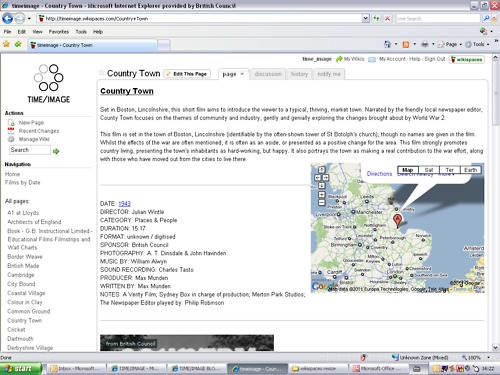 As some of you may have already noticed we have recently moved our existing html based catalogue of the British Council film archive to a wikispaces account: http://www.timeimage.wikispaces.com/ or http://www.wiki.timeimage.org.uk.
Wikispaces [fusion_builder_container hundred_percent="yes" overflow="visible"][fusion_builder_row][fusion_builder_column type="1_1″ background_position="left top" background_color="" border_size="" border_color="" border_style="solid" spacing="yes" background_image="" background_repeat="no-repeat" padding="" margin_top="0px" margin_bottom="0px" class="" id="" animation_type="" animation_speed="0.3″ animation_direction="left" hide_on_mobile="no" center_content="no" min_height="none"][http://www.wikispaces.com/], not to be confused with wikipedia, is a personal wiki creator. They are really usful for research, cataloging, and most importantly – collaborating.
One of our aims is to eventually integrate all our research on the British Council films into wikipedia – providing a massive platform for people to discover these great films. So for now we are developing the wiki pages – a particular style of web coding – in wikispaces. It's quite a massive endeavour, and we are still the process of just adding our research into it, let alone formatting it all. Over the coming weeks it should begin really taking shape, so please keep checking back to see how we're getting on.
The great thing with wikis is that, in theory, anyone can help edit / contribute to it. So if you would like to get involved in researching these films with us, and developing our wikispace – please get in touch!
[/fusion_builder_column][/fusion_builder_row][/fusion_builder_container]