'These films form part of an effort to portray the face of Britain and her people in their everyday lives and work, as they went about them in the eager, anxious months of a great war. There is no attempt in this series to depict the nation's war-effort or to state the issues which war raises for ordinary men and women throughout the world. That duty is quite distinct from our purpose, which is directed by a broader design. War propaganda in the narrow sense forms no part of it. Yet is scarcely possible to view this panorama of decent-minded life, of wheels revolving in great industries and public services, of a community which cares for the minds and bodies of its humblest members, without a thought of the challenge of ignorance and brutality confronting it. The challenge overhung it, as these films were made; and then men and women who play their simple parts in them outfaced it daily. But these level-headed studies of British subjects bear little trace of war's excitement. They show the enduring fabric of freedom and progress, which lives and works long after war-makers have been forgotten.'
Philip Guedalla
Chairman, British Council Film Committee
Introduction to Films of Britain 1941
---
The British Council Film Collection was TIME/IMAGE's flagship project.
During the 1940s, the British Council commissioned over 125 short documentary films designed to promote an understanding of Britain and Britishness. They were created with an overseas audience in mind, and were intended to act as cultural propaganda, counteracting both negative Nazi propaganda and the popular perception of Britain as a country stuck in the past.

Click to view digitised copies of the original distribution booklets
Each film focuses on a different subject, and the topics addressed are varied, including industries, careers, traditions, landscapes, sports, and public institutions. Yet the themes running throughout are constant, presenting an image of Britain as a green an pleasant land full of hard-working individuals. The collection varies in both quality and tone, influenced by the changing circumstances throughout the war and the methods of the various producers. A great number of film-makers were commissioned over the decade, each bringing their own styles with them. The earliest works of some of the finest film-makers of the time can be found within the British Council's archive; such as renowned Technicolor cameramen Jack Cardiff (who would go on to film, amongst many others, The Red Shoes and Black Narcissus and influence generations of filmmakers with his groundbreaking work) and Geoffrey Unsworth (2001: A Space Odyssey, Cabaret), and director Ken Annakin (Battle of the Bulge, Those Magnificent Men and Their Flying Machines).
The collection provides an interesting counterpoint to the brash wartime propaganda of the Ministry of Information, and provides a fascinating addendum to the Documentary Film Movement as a whole. Distributed abroad in 27 languages, and seen by millions of people in 110 countries worldwide, the impact of these films on the overseas perception of Britain is undeniable. Shown both theatrically and non-theatrically in embassies, cinemas, and  community centres, some films remained in circulation until the early 1960s, when they were used to teach English.
Despite such widespread viewing the collection eventually became obsolete, and was largely forgotten for almost 70 years, the physical copies of the films archived at the National Film Library and in other film archives worldwide. Now, as a result of a collaborative project between the British Council, the British Film Institute, Google, and TIME/IMAGE, the collection has been brought to light once more.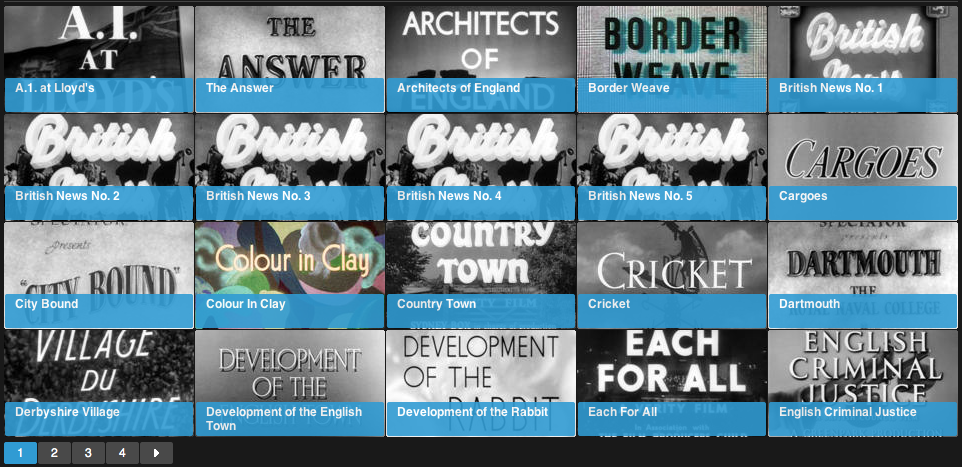 Digitised and researched, the complete set of films is now available for the public to watch and download for free from the British Council Film Collection website, complete with trivia and contextual information.